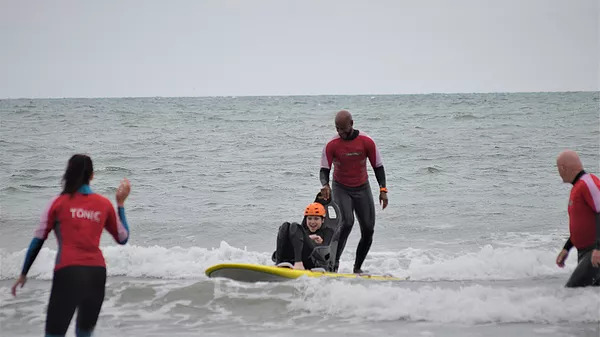 o orTonic comes from the welsh word Ton(wave) and a tonic being something good for you.Tonic surf Therapy is a surf/ocean related project based in Wales using surf and the beach environment as a recovery tool.
We work with individuals on the mental health spectrum,Veterans dealing with P.T.S.D,Carers/health professionals,sup substance misuse issues,mixed disability's and adaptive surfing.
We are currently in our eighth year of delivering this project and have fifteen years of surf coaching experience. We are an evidence based award winning project with a proven record of success with students from 8-80.
Quite simply we have a fantastic natural environment on our doorstep. Who doesn't feel better when they go to the beach? Alongside professional surf instruction by staff with experience in disability work, adaptive surfing, aba therapyand mental health training we have seen some beautiful and inspirational results.
We ideally like to run 10 week courses tailored to individuals and groups needs including other beach activities such as coast care,marine development,beach art and foraging. Currently we are working and supported by BBC Children in Need, Step Change, CAMHS , WWAMH , Walkin on Water surf school, CAIS, Clynfyw Care Farm and many others delivering Tonic sessions in Newgale, Poppit Sands and Borth.
 For more information, please get in touch with Kwame Salam on: 07966014697 or walkinonwater@hotmail.co.uk