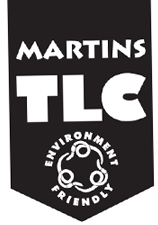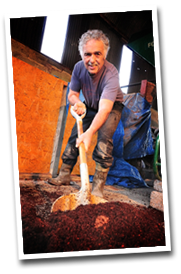 product information
Martins TLC is a peat-free compost suitable for organic growing.
It is made from worm compost mixed with coir.
We let the worms start the process for us by feeding them with manure brought in from neighbouring farms. After 3-6 months, this provides a nutritious plant food. We then sieve the finished worm compost and mix it with coir.
Martins TLC is the compost of choice of increasing numbers of commercial and private growers who wish to use environmentally friendly compost, avoiding the use of peat whilst continuing to grow high quality plants.
Our compost is hand made at Charlie's small-holding in West Wales. Making the compost by hand further increases its environmental sustainability as well as allowing the attention to detail required to ensure good quality control.
Weed seeds and pathogens are killed naturally by the heat generated in the muck heaps, while the final compost remains living product. Like healthy living soil, "The Living Compost" contains micro-organisms that promote plant growth and make nitrogen and other nutrients more available to plants.
Results of nutrient tests
Quotes from satisfied customers
Comparison with prices of other premium composts?
Instructions for use
Martins TLC Multi-Purpose Compost is produced by blending together worm compost and coir. It is not sterilised compost. There are beneficial bacteria and fungi that can be destroyed in sterilisation. This does mean that some weed growth may occur, so weeding may be necessary at early stages.
Growing from seed
Loosely fill seed tray or post with Martins TLC Multi-Purpose Compost, water thoroughly, allow settling
Sow seed thinly and evenly (refer to instructions of seed packet).
Cover lightly with compost
Keep moist by covering with glass or polythene
When large enough, separate the seedlings out to allow room for growth.
Lever them up gently, holding by the leaves not the stem.
Plant the seedlings in trays or pots, firming in with care and water well.
Be sure to check your plants regularly and water enough to avoid drying out.
Growing from cuttings
Fill container with Martins TLC Multi-Purpose Compost to within 15mm (1/2 inch) of rim and water well.
Prepare cutting, trimming leaves before the first leaf joint.
Firm into compost.
A moist atmosphere can help stimulate growth.
This could be achieved with a plastic bag secured over the plant until roots have formed. Then remove bag and keep in light position.
Potting
Part fill pot with moist Martins TLC Multi-Purpose Compost. Make a hole large enough to take the root ball of the plant to be potted.
Place the plant in the centre of the compost and firm in.
Top up with more compost and water well.
Containers and Hanging Baskets
For containers and hanging baskets use as when potting, filling with our favourite plants
Planting Out
Use freely to encourage new root growth. Ideally use Martins TLC Worm Casts, a Super Rich Compost, full of nutrients, humus and beneficial micro-organisms.
Care With Watering
Coir holds moisture well. However it behaves slightly differently to peat. The surface may look dry when underneath it is still wet. Take care not to over water.
Feeding
There are natural nutrients in the compost to support early growth of young plants. After 5/6 weeks it may be necessary to add feed. Try a sprinkling of Martins TLC Worm Casts compost around the surface and water in. Alternatively use an old kitchen fork to dig in worm casts around the top layer of the pot.